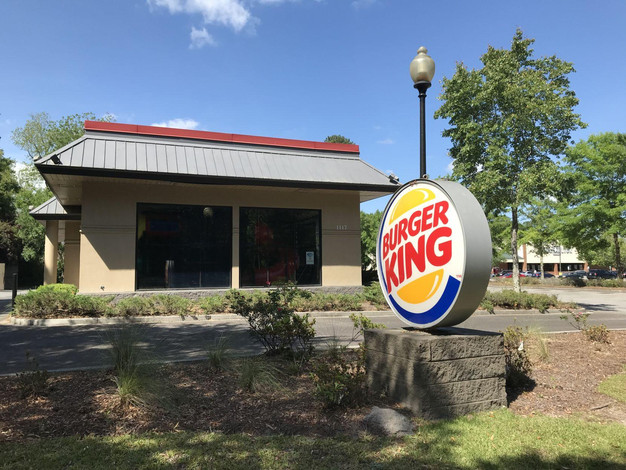 Five Burger King locations across the Charleston region have been closed by the franchisee, a company that's being sued for allegedly failing to repay a loan from the previous operator of the restaurants.
Signs on some of the darkened doors and drive-thrus at the fast-food outlets say they are closed for maintenance reasons.
The shuttered restaurants include three in Summerville — at 1300 N. Main St., 1117 Central Ave. and 1601 Trolley Road. The others are in Mount Pleasant at 1825 U.S. Highway 17, in front of Mount Pleasant Towne Centre, and at 103 U.S. Highway 52 in Moncks Corner.
According to court filings, franchisee Bennie Arbour Jr. operated the five fast-food locations through a company called T. Bayou LLC.
A loan document shows Arbour purchased the businesses for $1.15 million from Whit-Fam Inc., and that he borrowed $100,000 from the North Charleston-based seller in September 2017. The money was not repaid when the promissory note came due a year later, according to a court document.
Whit-Fam filed a lawsuit in Charleston County to collect the debt in February. The company requested a default judgment on April 22, saying Arbour had not formally responded to the allegations.
Whit-Fam also owns the site of the shuttered Burger King in Moncks Corner. It filed an eviction notice with a Berkeley County court, also on April 22.
Signs in the windows and drive-thrus of two of the Summerville locations — on North Main Street and Central Avenue — are similar, reading, "Sorry for the inconvenience. We are closed for maintenance," and "We are closed for maintenance-related issues." A sign on the door at the Mount Pleasant restaurant also cites maintenance as a reason it isn't open.
A sign at the Trolley Road says, "Sorry for the inconvenience but we are closed."
Drive-thru signs on the restaurants on Central Avenue and Trolley Road as well as the Mount Pleasant location have been completely removed.
Charleston real estate investor Steve Varn, owner of the North Main Street and Mount Pleasant sites, said Wednesday he was unaware the restaurants had closed. He said he thought they were to be remodeled.
Restaurant upgrades were tied to Arbour's one-year loan agreement with Whit-Fam. It's unclear whether they were completed.
Arbour, Whit-Fam's lawyer and a Burger King representative did not immediately respond to requests for comment Wednesday.
The state Department of Health and Environmental Control's food inspection website does not show the restaurants to be in violation of any sanitary conditions as a reason for the closings.
Burger King's website shows the chain has about 15 other locations that remain open in the three-county region.been completely removed.