THE STATE OF THE FULL-SERVICE RESTAURANT INDUSTRY
THERE ARE NO SHORTAGES OF CHALLENGES AHEAD. BUT YOU'RE NOT IN THIS ALONE.
APRIL 2019 DANNY KLEIN – FRS MAGAZINE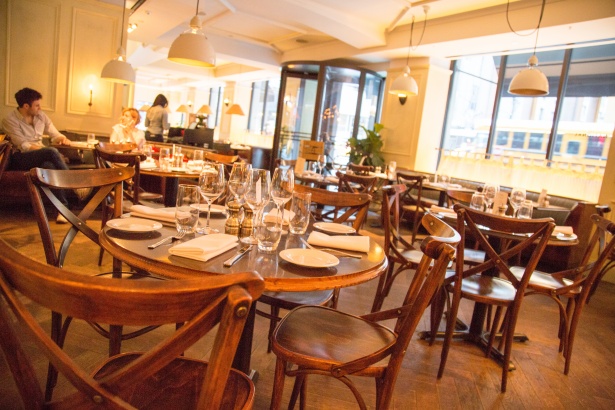 Running a restaurant is such a personal journey that, oftentimes, operators gloss over one of their greatest resources. If you're struggling, chances are someone else is, too. Some of the best advice comes from restaurateurs who have been there before. In many cases, they're going through the same setbacks every day. And they're not always acing them.  
Given the vast and varied challenges, from tech to delivery to marketing, labor, cost analysis, and so forth, it becomes critical to establish benchmarks to measure success. Putting that into perspective can help a restaurant operator create goals and prioritize targets. A great way to do so: learn from the trials and triumphs of peers.
TouchBistro released a report on the state of full-service restaurants in 2019. The point-of-sale company interviewed more than 500 full-serve employees from across the country. Two-thirds of the restaurateurs had five or more years of experience in a senior management role; 95 percent worked at venues with more than 20 seats; and 41 percent were employed at restaurants with 41–80 seats.
By job title, 56 percent identified as a general manager, 34 percent as an owner, and 10 percent as a president/CEO. Eighty percent of respondents ran independently owned restaurants. Twenty percent were chains.
Here's what surfaced.
The financial picture
The broad stroke was a positive one. Nationwide, full-service units reported an average profit margin of 11 percent. While profit margins typically grow as operators gain experience, margins maxed out at 11 percent after five years, the report said. Although profit margins plateau at this five-year mark, TouchBistro's research showed that a full-service restaurant's annual revenue continues to grow as the restaurateur gains more experience.
One in two, or more than half of the respondents, said they used their own savings to open restaurants. Other popular funding sources included banks or small business loans, investors, and family in friends.
Let's break that down:
Own savings: 54 percentBanks/small business loans: 46 percentInvestors: 34 percentFamily/friends: 31 percentOnline lenders: 12 percentGrants: 8 percentCrowdfunding: 8 percentFood incubators: 5 percent
When unexpected costs pop up, most restaurateurs turn to financial institutions and small business loans.
How else do full-service operators tackle surprise expenses?
Banks/small business loans: 52 percentOwn savings: 43 percentInvestors: 28 percentFamily/friends: 25 percentOnline lenders: 14 percentGrants: 10 percentCrowdfunding: 8 percentFood incubators: 5 percent
PEXELS/HELENA LOPES
Rent is an overhead most restaurants ha
Health check, and the rising price of rent
The real-estate issue never lets up, does it? Unless you own a space outright (that isn't as easy, or common—by far—as it once was), rent is an unavoidable overhead expense for full-service operators.
Fifty-eight percent of respondents said they spend up to $7,000 every month on rent. Of the major cities surveyed, New York and Miami topped the list as the most expensive for commercial rent in the country. In those cities, one in seven restaurateurs said they spend more than $12,000 per month on rent. Those are pretty staggering figures.
Just 16 percent of the restaurateurs said they don't have to deal with rent and landlords because they own their space.
How much money are restaurateurs spending on rent per month:
24 percent: $3,000–$5,00020 percent: $5,001–$7,00016 percent: Own the space14 percent: Less than $3,00011 percent: $7,001–$10,0008 percent: $10,001–$12,0007 percent: Over $12,000
As TouchBistro points out, rent prices don't tell the entire story. You need to measure them against sales. For the majority of restaurants, rent represents about 5–10 percent of monthly sales.
Two-third of restaurateurs said they could handle a rent increase of more than 4 percent, but this depends on the size of the restaurant. Generally, TouchBistro said, the larger the restaurant, the easier it is to cushion an increase in rent. The survey also found that restaurants in Miami and New York—the most expensive markets—were more prepared than restaurants in less expensive cities to handle rent increases of 10 percent or more. What does that suggest? Perhaps that spending more on real estate sometimes pays off. It's risky to compete in that arena, but it can return dividends. Massive volumes come out of prime outlets, naturally. At the same time, though, miscalculate traffic at those high-priced spots and rent will quickly overwhelm a restaurant.
Staffing, staffing, staffing
We're beating a very worn-out drum talking about the tightened labor market and what that entails. To put it simply, it's tough to find help right now. You just can't pay somebody money anymore and expect that to be enough (although it's still the most important factor). Incentives. Work culture. Benefits. There are all playing a larger role than ever. And then there's the issue of retaining quality employees; what it costs to lose them; what that means for your customer service. And on we go.
How restaurants find employees:
Referrals/networking: 51 percentJob sites: 50 percentSocial media: 46 percentIn-store advertising: 45 percentCompany website: 37 percentJob fairs: 23 percentHeadhunter/recruiter: 20 percent
Restaurants are pulling out all the stops to win with talent. Two-third of restaurants use higher wages to attract employees. Benefits, like professional development opportunities, are secondary to competitive wages in the battle for the best employees.
Seven in 10 restaurants said they experience regular labor shortages at some point. A third said they struggle with server shortages, while a quarter lacks dishwashing staff most of the time. Full-serves that make more than $2 million in annual revenue also struggle to retain chefs, line and prep cooks, and bartenders.
One in three full-service restaurants experience an annual turnover rate of more than 20 percent, the study said.
Annual employee turnover rate:
35 percent: Less than 10 percent27 percent: 11–20 percent14 percent: 21–30 percent11 percent: 31–40 percent12 percent: Over 40 percent
The most important traits
Hard workTrustworthyPositive attitude
Important traits
ProfessionalPunctualMulti-tasker
Somewhat important traits
Goes above and beyondCommunicativeHas integrityQuick thinkerHospitable
Least important traits
AuthenticHumbleCollaborative
Getting detailed
Ever met a restaurateur who said training wasn't important? But how much training is needed to be successful exactly? That's a more nuanced debate.
TouchBistro found that training time varied greatly among full-service restaurants, and ranged anywhere from one hour to more than 12 per employee. Larger restaurants, however, tended to offer more training, as about half of them train their staff members for more than 12 hours each. Resources play a role.
The amount of training front-of-the-house staff receive:
26 percent: 4–7 hours25 percent: 1–3 hours24 percent: More than 12 hours21 percent: 8–11 hours3 percent: Less than one hour (not many people would admit this).
Training BOH staff receive:
28 percent: More than 12 hours26 percent: 4–7 hours23 percent: 1–3 hours18 percent: 8–11 hours5 percent: Less than 1 hour
The cost: 55 percent of full-service operators said they spend less than $2,000 per employee on training, but this depended on the restaurant's annual revenue. Venues that generated less than $1 million in annual revenue tended to fork up less than $2,000 per employee, while restaurants that made more than $1 million annually spent more.
A third of restaurateurs also said they use employee-scheduling software, while a quarter sticks to spreadsheets. The rest use old-school tactics like pen and paper, or a combination of tech and traditional methods.
How restaurants create staff schedules:
33 percent: Scheduling software only26 percent: Spreadsheets only13 percent: Pen and paper only12 percent: Spreadsheets and software6 percent: Pen/paper and spreadsheets5 percent: Pen/paper and software5 percent: All three
Additionally, 23 percent of restaurateurs said employee schedules take them three hours or more per week. Half of the operators said they reduce labor costs by increasing productivity, and four in 10 have done so by cross-training staff and using POS data to predicting scheduling needs.
PEXELS/MAT BROWN
Don't rush into your POS choice.
The payment game
When it comes to picking a POS system, the respondents tapped affordability, ease of use, and system reliability as the most critical factors. The majority of operators said they own their hardware. Eighteen percent said they lease it.
Also, two-thirds of restaurateurs said they use a payment solution that integrates with their POS. Larger restaurants especially prefer POS-integrated payment solutions. Smaller venues were split evenly between choosing standalone payment processors and integrated solutions.
The main point: Given how many tasks a POS system can factor in the day-to-day—sales tracking, labor forecasting, inventory management—it's essential to pick a good fit. Don't rush in.
The money conversation
We've learned in recent years that restaurants can't move too fast on the payment subject. People who say cash is dead have never tried to serve someone afraid their identity will be stolen every time they pull out a credit card. Even Shake Shack found the cashless route to be more trouble than it was worth.
Now, are there benefits to being a cashless operation? Yes, no question. It reduces shrinkage. Employee theft basically vanishes. It's cleaner. Restaurants can collect data. But is the consumer-ready for it? That really depends on your restaurant and customer base. Some brands, like Sweetgreen, see more pros than cons and can ditch the paper. If your target is broad, however, it might not work.
As for mobile payments, like Apple Pay, Google Pay, and Samsung Pay, 18 percent of restaurateurs said they are set up to accept all three. Payment through loyalty points, TouchBistro said, has the most potential for growth—only one in seven restaurants currently use points as a payment method.
While most restaurants accept a variety of payment methods, four in five restaurateurs are frustrated with their payment processors, the survey found. Their top issues: a lack of pricing transparency and the need for manual data entry.
The concerns:
21 percent: Lack of transparency on pricing20 percent: No frustrations18 percent: Manually entering batches into accounting softwareDealing with multiple vendors and terminals: 16 percentManually entering transaction amounts in terminals: 15 percentDealing with small vendors/resellers that don't inspire trust: 9 percent
RAWPIXEL.COM
First, it's about collecting information. Next, it's finding ways to turn that data into tangible and actionable results.
Collect the data
The data gleaned from POS systems can help make business decisions. Restaurants can access their profit margins, see labor trends, opportunities for savings, and more.
About seven in 10 operators said they completely understand the information presented to them in their POS reports. That's a pretty interesting stat. It means close to 30 percent of restaurateurs are receiving data and aren't sure how to leverage it. Three-quarters of respondents said they use POS reports to help make decisions about menu pricing, while half also use the reports to inform scheduling and menu design decisions.
What this amounts to is significant whitespace in the big-data realm. First, it's collecting information. Next, it's finding ways to turn that data into tangible and actionable results.
The business decisions that POS reports influence:
Menu pricing: 74 percentScheduling: 50 percentMenu design: 4 percentOnline ordering apps: 40 percentHiring needs: 39 percentStaff promotions/evaluations: 34 percent
And while bookkeeping might not be the sexiest part of running a restaurant, keeping track of expenses is a necessary evil. The majority of operators surveyed said they spend 2–4 hours each week on bookkeeping, and a quarter of them enter POS data manually.
What are the key data points?
Six in 10 restaurateurs said they regularly review their labor cost ratio. Smart scheduling is increasingly freeing up restaurateurs from having to manually create employee schedules.
Half of the respondents said they regularly check their average cover, table turnover, and time it takes for a table to flip. The power of efficiency.
Taking stock
Pretty much every restaurateur can agree controlling food costs is an essential part of maintaining and growing profit margins. Full-serves tend to accomplish this by managing their inventory and menu. Restaurants with lower profit margins manage food costs by controlling portion sizes. TouchBistro found that only four in 10 restaurants negotiate with vendors to keep food costs down.
The same amount take manual inventory of supplies on a weekly basis, if not more often.
How restaurants control food costs:
Inventory management: 64 percentRegular menu management: 62 percentPortion control: 49 percent (this ups to 61 percent for restaurants with a lower profit margin)Vendor negotiation: 37 percent
Why are restaurants comping meals?
Server error: 32 percentKitchen error: 32 percentCustomer dissatisfaction: 21 percentCustomer error: 20 percent
What this tells us is that the majority of comps are related to internal issues, not external ones. Even if it's an external problem, like customer error, it's probably safer, typically speaking, to pretend it was internal. Nobody paying for a meal likes to be told they messed up.
Some other stats:
Two-third of full-service restaurants look into the future (like predictive forecasting tools) to prepare inventory orders. Generally, the larger the restaurant, the more likely it is to use analytics to inform its inventory orders, the study said.
About half of the restaurants surveyed said they struggle with ordering too much inventory—a quarter don't order enough, and the rest struggle with both.
This issue doesn't improve with time or experience, either. Restaurateurs with less than three years of experience in the industry tend to over-order or under order at about the same rate as those who have spent more than 15 years in the business. So don't feel bad if you're just starting out and having this issue. Everybody has it.
JAKUB KAPUSNAK | UNSPLASH
Off-premises has been all the rage—for better or worse—this past year.
The vendor question
When a vendor raises their prices it's always a struggle. Typically, it's one full-serves just absorb and solider through. The operators surveyed said the majority of vendors increase their prices semi-yearly or more often.
34 percent: Semi-yearly20 percent: Yearly18 percent: Monthly14 percent: Semi-monthly13 percent: Not yet
Delivery dives in
Off-premises has been all the rage—for better or worse—this past year. Here's how full-serves said they were embracing the channel.
Almost four in five operators said they use an online ordering platform. Two-thirds use between one and three platforms.
27 percent: Just oneTwo: 21 percentThree: 15 percentFour: 12 percentFive or more: 4 percent
Adoption rates of online ordering sites by full-service restaurants across the country:
Grubhub: 41 percentUberEats: 39 percentDoorDash: 32 percentA restaurant's website: 31 percentPostmates: 20 percentEat24: 13 percentOthers: 2 percent
What's been the impact?
More than half of restaurants said they conduct 6–20 percent of their business through online ordering platforms.
Full-serves said they've seen an 11–20 percent increase in overall sales volume.
The majority of restaurants said customers spend up to 20 percent more on online orders, due to both more add-ons and more menu items per check.
https://www.fsrmagazine.com/finance/state-full-service-restaurant-industry