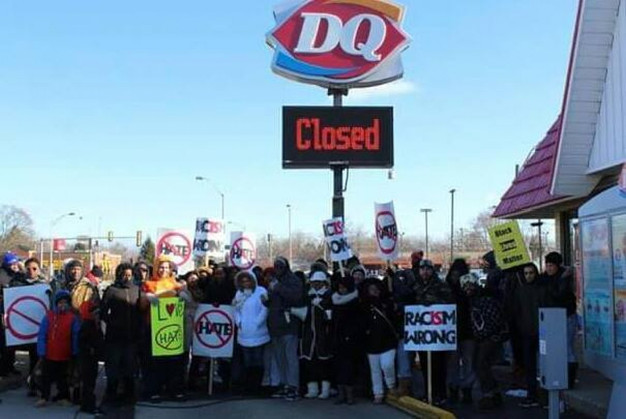 The Dairy Queen owner shouting the n-word at Deianeira Ford told her he could say whatever he wanted at his fast-food restaurant — that any accusations and complaints she uttered would fall on deaf ears.
Ford was vindicated two days later, when her Facebook post about the incident provoked outrage so strong that the Dairy Queen in Zion, Ill., didn't open for business.
But her victory was tempered by something even more troubling that she heard at a protest: Although she was the most vocal victim of the owner's racism, she was not the first.
On Wednesday, Ford had taken her two children to visit their grandmother — and, because they were well-behaved, she stopped by the Dairy Queen on the way home. She ordered a $5 box, but part of the order was wrong, and another part was missing.
So she asked the owner to fix the order, and when he balked, she asked for a refund. That's when things spiraled.
The owner, James "Jim" Crichton, returned her $5, but gave her a mouthful, according to Ford and the police in Zion, 50 miles north of Chicago.
"He called me and my children n—–; he said I can go back to where I came from," Ford told The Washington Post.
"He took out his flip phone and he said he would take a picture and put it on Facebook because he wants to show the world what kind of n—— he has to deal with. Then he shut the window and walked away."
['Go back to Africa'? This man will — if racists pay his way.]
But the worst came a few moments later, from the back seat, where her two children were sitting, Ford said.
"My daughter is 3. She's a little sponge; she repeats everything," said Ford, 21, who is biracial. "She asked me: 'Mommy, we n——?' "
Crying and shaking, Ford dialed 911.
An officer found her sitting in the parking lot in tears. She told him what happened, and he went to talk to Crichton, the DQ owner.
The officer later detailed what Crichton told him in a police report.
He said Crichton was angry.
He was shaking and pacing the floor.
But he did not deny what Ford had said:
"Crichton boastfully told me he would be happy to go to jail over the issue and proudly admitted to calling Ford a n——. He added that he is 'fed up with black people,' " and described an incident in which two "of them" were in his restaurant squirting ketchup all over the floor, according to the officer's report.
"During the course of my conversation with Crichton, he used the word 'n—–' freely to describe black people," the officer continued.
Still, there was little police could do.
In a statement, Zion Police Chief Steve Dumyahn told The Post that "while this alleged activity is deplorable, it is not criminal."
So Ford took to Facebook.
She wrote a post describing what had happened. She described how she had asked for the owner's name after recovering from her shock so she could report him to Dairy Queen's corporate office. He replied "Bill Clinton then said better yet I'm Donald Trump," Ford posted.
She included the phone number and address of the Dairy Queen. She also called Dairy Queen's corporate headquarters.
A few hours after she wrote the post, it had been shared by several thousand people. Some called the restaurant. One man went by Crichton's store, sparking another call to police. At some point, the post was seen by the people at Dairy Queen's corporate office.
On Thursday, the company released a statement saying Crichton's actions "are inexcusable, reprehensible and unacceptable. We do not in any way condone his behavior or language."
Dairy Queen also released a statement from Crichton, which said he and his employees would undergo sensitivity training.
"I would like to sincerely and humbly apologize for my recent words and actions," his statement said. "I have let my family, friends, employees, our system and this community down with what I have done."
But it was too late. On Friday, Dairy Queen announced that it was closing the location in Zion, Ill., and that it was terminating Crichton's franchise rights.
Crichton could not be reached for comment on Sunday.
A Saturday protest organized by local activists and Black Lives Matter demonstrators turned into a celebration of sorts.
Ford's attorney, Renea Amen, told The Post that revoking the franchise license was a good first step.
"I didn't want my clients to walk away with just a letter of apology," she said.
Dairy Queen and Crichton "received money from this community. I think those days are gone where businesses and business owners can mistreat people and just say 'I'm sorry.' "
Legal action is still possible against Dairy Queen, Amen said, especially because other patrons — and even employees of the restaurant — have described racist comments and discriminatory mistreatment. She's meeting with some of them Monday, so see if there is a pattern that Dairy Queen was made aware of.
Ford said she was happy about the outpouring of support from community members who showed up in the blistering cold at what used to be her favorite restaurant.
But Ford said she's still struggling to explain racism to a 3-year-old who doesn't fully understand what happened.
"She kind of still brings it up — that's just how she is. She said, 'Why did that mean man say that to me?' "
"I [told her] some people are just mean. Some people don't have good hearts."