The recipe for a successful, high-end restaurant used to have two main ingredients: a famous celebrity chef mixed with a flashy big city or destination location. Now, it seems, not so much.
In the past year, a long list of high-profile celebrity restaurants have closed, some due to high rental prices, others because of bad hotel deals. In the case of celebrity chef Mario Batali, sexual harassment allegations have led to the shuttering of a number of his eateries.
Chris Palmeri, the L.A. bureau chief for Bloomberg News, wrote an article about the potential demise of the celebrity chef restaurant. He said one reason these restaurants are failing is over expansion.
"They got ambitious," he said. "They opened a lot of high-profile locations. They wanted to be in the highest-profile places."
Another reason is that customers' tastes have changed. They are looking for more authentic, simpler fare.
An exception to this trend is the success of Gwen, celebrity chef Curtis Stone's restaurant in Los Angeles. But even he told Marketplace that the restaurant business is always an inch from disaster.
Palmeri talked with Marketplace host Kai Ryssdal about his story and all of the recent restaurant closures. Below is a list of some of those restaurants.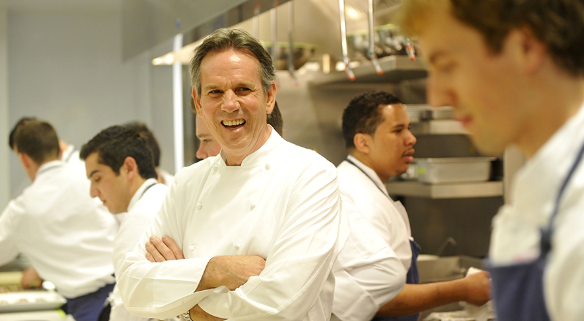 Celebrity chef: Thomas Keller
Best known for: The French Laundry in Napa Valley, California
Restaurant closure: Bouchon closed in December 2017. The restaurant opened in 2009. Keller said in a statement that "the circumstances no longer exist to operate a profitable restaurant."
Celebrity chef: Gordon Ramsay
Best known for: Gordon Ramsay in Chelsea, London
Restaurant closure: Maze in London will close in early 2019 after the Gordon Ramsay Group's holding company, Kavalake, reported £3.8 million loss in 2017. However, the restaurant will be replaced with a new concept. The restaurant opened in 2005.
Celebrity chef: Daniel Boulud
Best known for: Michelin-starred restaurant Daniel based in New York City
Restaurant closure: DBGB, which opened in New York in 2010, will close on Aug. 11. Boulud said the reason for the closure is the restaurant wasn't seeing enough business
during the week. DBGB in Washington, D.C., remains open.
Celebrity chef: Emeril Lagasse
Best known for: The Food Network shows "Emeril Live" and "Essence of Emeril"
Restaurant closure: Emeril's Orlando closed in July. No reason was given for the decision. Table 10 in Las Vegas closed in December 2017 after the restaurant decided not to
renew its lease. One of the possible reasons was the escalators leading to the
Grand Canal Shoppes, where the establishment is located, were removed.
Both restaurants opened in 2007.
Celebrity chef: Jamie Oliver
Best known for: The television show "The Naked Chef"
Restaurant closure: He closed 12 of his 37 United Kingdom restaurants at the start of 2018. In a statement, the Jamie Oliver Restaurant Group said the decision was to ensure
that the brand is "in good shape for the future."
Celebrity chef: Bobby Flay
Best known for: Restaurants like Bobby's Burger Palace, Bobby Flay Steak and Mesa Grill, as well as several television shows
Restaurant closure: Bar American in New York City closed in January 2018 due to a new lease and costly renovations. The restaurant opened in 2005.
Celebrity chef: Guy Fieri
Best known for: The Food Network show "Diners, Drive-ins and Dives"
Restaurant closure: Guy's American Kitchen & Bar closed its doors Dec. 31, 2017. Fieri did not give a reason for the closure. The restaurant opened in 2012.
Celebrity chef: Jose Garces
Best known for: The winner of the second season of "The Next Iron Chef"
Restaurant closure: Jose Garces' restaurant group was sold after the company declared bankruptcy in May. Two of the chef's Philadelphia restaurants — 24 and Garces Trading Company — closed in July as part of the changing of hands. Garces Trading Company opened in 2010 and 24 opened in 2016.
Celebrity chef: Mario Batali
Best known for: The Food Network show "Molto Mario"
Restaurant closure: CarneVino Italian Steakhouse, B&B Ristorante and Otto Enoteca e Pizzeriaip — all on the Las Vegas Strip — closed at the end of July following sexual misconduct allegations against the chef. CarneVino opened in 2008 and the others opened in 2007.
Link to the original article, click here: https://www.marketplace.org/2018/08/10/business/it- end-celebrity-chef-restaurant