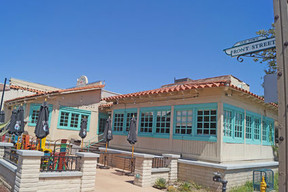 After serving up Mexican food to locals and tourists in Old Town Temecula for more than 28 years, Rosa's Cantina announced it was closing its doors Sunday, Aug. 25.
The news was announced on a Facebook post on the restaurant's page.
"We want to thank everyone who has supported Rosa's throughout the years!" the post read. "It is the patrons who make being in the restaurant industry so special. At this time, we have decided to close Rosa's doors as of Aug. 25, 2019. However, we have chosen to move on to other endeavors and can't wait to bring Temecula new and exciting adventures in years to come."
The restaurant was established in 1991 by Mike Theising, his wife Rosa and son Mike Junior and promised to serve "only the highest quality authentic Mexican food available for their customers at reasonable prices."
"Rosa's Cantina was an iconic destination in Old Town Temecula and will be deeply missed by those of us who felt the warmth and community spirit of the wonderful Theising family," Jeff Comerchero, former mayor and longtime Temecula city councilman, said. "I'm sure many people like me will feel sad that another nostalgic piece of our memories has moved on, but it's also exciting that it will be replaced by another opportunity for new memories to be made."
The location of the building was the site of the original Temecula Hotel since 1884 and was known for years as the Escallier Hotel and Saloon.
Craig Puma, owner of The Bank Mexican Restaurant and Bar, said the two restaurants were more teammates that competitors, even though Rosa's also served Mexican food just steps away.
"Rosa's has been my neighbor across the street since I've owned this place," Puma said. "Mike and Rosa were always very gracious; we had a great relationship. They could come over and get straws, cups or anything they needed, and I could go over there and grab a Coke or a Sprite, whatever. We would help each other. The relationship was always very good.
"We believe that what was best for Old Town was most important. Mike was always a big proponent of the Old Town Association, which I started in 2009, and he was always an active member.
"He has the same philosophy that I had, which is restaurants in Old Town are not competition, we are all there to support the community and create a restaurant district.
"There are some people that have come in here with an attitude of 'No, every restaurant is a competitor,' Mike and I always looked at it like 'We're a restaurant district and we're part of that, we want people to come down and try different things,'" Puma said.
Rosa Theising died last year, and the restaurant had been acquired fairly recently by Richard Leigh, owner of 1909 with his son Ricky Leigh. They are currently listing the building as available for lease through Front & Main, and there are some indications that a deal is pending.
"We again thank everyone for your continued support," according to Rosa Cantina's Facebook page. "We still have 1909 and Toast, so hopefully we will see you there. Adventures await … stay tuned."
Article Written by Valley News https://www.myvalleynews.com/story/2019/09/06/news/rosas-cantina-closes-its-doors-after-28-years-in-old-town-temecula/67452.html
Photo Courtesy of Valley News