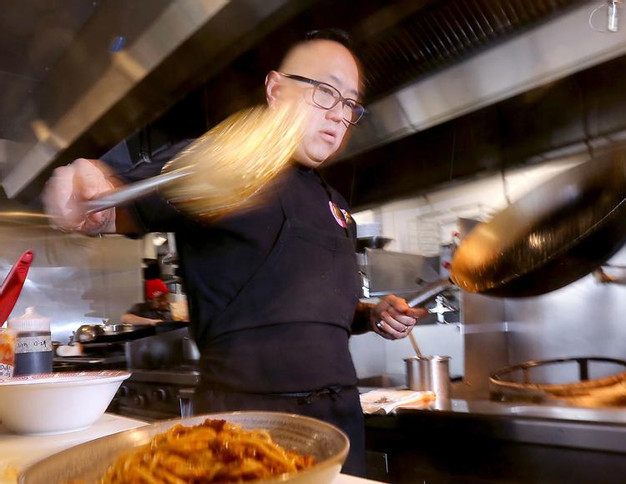 Madison's best-known chef, Tory Miller, said Thursday that he's closing his Asian-focused restaurant Sujeo after nearly five years.
The restaurant, one of the earliest to open on the rapidly developing stretch of East Washington Avenue, will have its last day Aug. 24.
Miller said his decision to close has been "super emotional."
"Sujeo is closing mostly because of lack of business," he said. "Our neighborhood is growing, but our customers aren't. That's the hardest part. The customers we do have are always super positive and love it. We just haven't had enough of them."
Miller said that for every busy day there have been many "super slow days." He said the decision to close has been hard because of his loyal customers and the days when the restaurant is crowded.
"The business is out there, but not consistently," he said.
Sujeo, in the Constellation building at 10 N. Livingston St., went from full-service to fast-casual last year to more quickly serve concertgoers at neighboring Breese Stevens Field and The Sylvee, a 2,500-capacity music venue across the street. The change happened the week The Sylvee opened.
At the time of the switch, Miller said that when he opened he was "lost in a search for authenticity," explaining that many restaurateurs, when they open an ethnic-food restaurant, are worried about whether the food is authentic.
But he said he and Sujeo's executive sous chef, Jamie Hoang, discovered that it's when they are at their best, having the most fun and making the best food, that they are authentic to themselves.
"I am a Korean-born, Wisconsin-raised, adopted, Asian-American. I am almost by definition not authentically anything," Miller said. "So by embracing who I am, and getting back to the food I want to eat, I think the menu is going to reflect that."
Sujeo is named for the utensils traditionally used to eat Korean food: rounded chopsticks, and a long, shallow spoon, both made of metal.
The restaurant serves twists on Korean fried chicken, bibimbap (Chef Tory's B-Bap), dan dan noodles, ramen and sandwiches like the Pho Dip, a banh mi that uses pho as a dip.
The restaurant's new hours until its closing date are 4:30 to 9 p.m. Tuesday, Wednesday, Thursday and Sunday, and until 1:30 a.m. Friday and Saturday.
Miller owns Sujeo and three other Madison restaurants, L'Etoile, Graze and Estrellón, with business partner Dianne Christensen as part of Deja Food Group.
Article Written by Samara Kalk Derby of The Wisconsin State Journal https://madison.com/wsj/entertainment/dining/restaurants/sujeo-closing-super-emotional-for-chef-tory-miller/article_b646f484-cfb8-5c0a-98b0-fd97e86f8214.html
Photo Courtesy of The Wisconsin State Journal