Restaurants are more than just a business. They are places where memories are made — from outings with friends to romantic dinners to family celebrations. They can be places of familiarity and comfort, a part of a life's routine. When they close, there can be a real sense of loss….
In 2017, Rochester area restaurants closed for a variety of reasons, from fires to retirements to financial issues to the owner just wanting to do something different.
Here are some of the area institutions that will be missed.
The Beale New Orleans Grille and Bar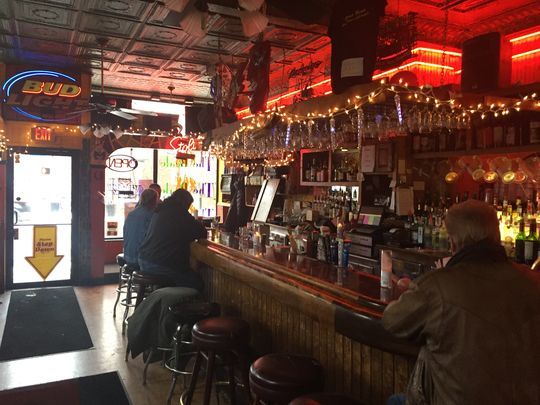 The Beale, 689 South Ave., closed after 19 years in business. (Photo: Will Cleveland/@WillCleveland13/Staff photographer)
A longtime South Wedge institution known for nightly live local music and New Orleans fare,The Beale New Orleans Grille and Bar, closed in February. The establishment at the corner of South Avenue and Gregory Street had been in business for 19 years. Its Penfield location had closed in 2015.
It has since been replaced by The Toasted Bear Tavern and Grill, which serves bar fare such as wings, burgers and flatbread pizzas.
Havana Cabana
Havana Cabana, at 289 Alexander St., had a bar stocked with 125 rums. (Photo: KATE MELTON)
Havana Cabana Island Café and Rum Bar closed in August at 289 Alexander St. after five years in business. Restaurant owner and chef Trey Yager opened the restaurant in 2012 with his former fiancé Jordan Slosar. The restaurant carried about 125 different rum options in its two-floor, island themed establishment.
The good news for people who like the island vibe: Lanai restaurant opened a few doors down at 295 Alexander St. in the former home to Mex. While it doesn't have the rum options, it has eight large machines that dispense homemade, fruity, boozy slushies. The fare is Asian fusion based on the heritage of chef and co-owner Rico Griffone.
Keenan's Restaurant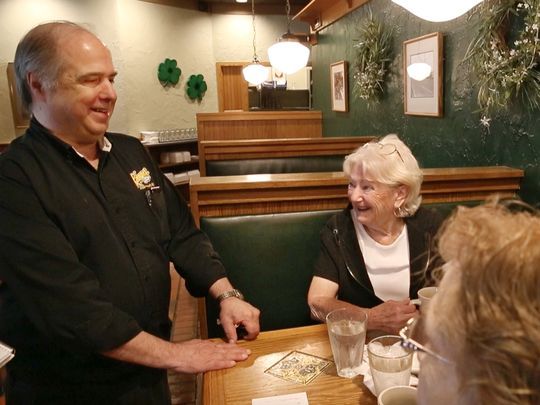 Jim Romano, owner, visits with longtime customers Joyce Madonia of Ogden, center, and Janet Northrup of Greece, right, at his Keenan's Restaurant in Irondequoit Wednesday, June 21, 2017. After 31 years in Irondequoit, the popular family restaurant is closing. (Photo: SHAWN DOWD/@sdowdphoto/STAFF PHOTOGRAPHER)
After 31 years of being part of graduation parties, weddings, class reunions, funeral gatherings, holiday meals and more, Irondequoit's Keenan's Restaurant closed in June. Sue Roe started Keenan's in 1986 in an old farmhouse near the corner of Titus and Hudson avenues. The restaurant moved to Georgetown Plaza, a strip mall on East Ridge Road, in 1996. Jim Romano owned or co-owned the restaurant for 30 of its 31 years.
Mis En Place
(Photo: Tracy Schuhmacher/@RahChaChow/staff photographer)
Mise En Place, at 683 South Ave., will close its doors on Dec. 31 after 10 years in business. Casey Holenbeck, chef and owner, has accepted a position as executive chef of Foodlink's community kitchen and also wants to spend more time with his children.
Roughly pronounced MEEZ ahn plahs, mise en place is a chef's term for having all of your dish's components prepped and at the ready before cooking. When Mise En Place opened, that's what Holenbeck set out to provide — washed, chopped and measured ingredients to prepare a meal, together with a recipe, making it easy for customers to cook at home. After months of customers asking for him to complete the cooking for them, he switched to offering prepared foods — from simple breakfasts and sandwiches to restaurant-quality entrees. The business also sold grocery items.
Nolan's on Canandaigua Lake (plan to reopen in 2018)
The site of Nolan's restaurant, which was destroyed in a fire on July 13. (Photo: Lauren Peace)
Canandaigua residents were shocked when a four-alarm fire destroyed the popular Nolan's on Canandaigua Lake in July 2017. The owners of the fine dining restaurant plan to rebuild in the same spot near the New York Wine and Culinary Center and the Canandaigua City Pier; its website indicates that the restaurant plans to reopen in May of 2018.
They have requested a $416,000 grant for the rebuild through the federal Community Development Block Grant program. In the meantime, the owners operate Nolan's at the Canandaigua Country Club and its catering operation.
Cole and Parks
Cole & Parks, at 607 Rowley Road in Victor, on Saturday, Feb. 25, 2017. The business is closing on March 3rd. (Photo: SHAWN DOWD/@sdowdphoto/, STAFF PHOTOGRAPHER)
Cole & Parks, a cozy spot that served baked goods, breakfast and lunch, closed in March after 13 years in business. The quaint yellow 1813 farmhouse at 607 Rowley Road, near the intersection of Route 96 and the New York Thruway, was built by Simeon Parks, a prosperous farmer, according to a Driving Tour of Historic Victor, published by the town of Victor.
The Daniele family intends to build a Royal Car Wash at the location.
Open Face Sandwich Eatery
(Photo: Mike Bradley)
The popular Open Face Sandwich Eatery served its last sandwich in February after 13 years. The spot on South Avenue near Hickory Street in the South Wedge had a cool vibe that combined antique finds and contemporary design. It served sandwiches — both open faced and closed — as well as soups, salads and the most interesting selection of non-alcoholic drinks in town.
Another upscale sandwich spot, Relish, has opened at the site at 651 South Ave., and is getting good reviews.
Rochester Youth Culinary Experience
Claueshell Davidson, a senior at East High, mixes up a fresh batch of sweet tea at the newly opened Rochester Youth Culinary Experience in the Village Gate. (Photo: SHAWN DOWD/@sdowdphoto/STAFF PHOTOGRAPHER)
The nonprofit Rochester Youth Culinary Experience (RYCE) was a collaboration between Aaron and Kelly Metras, owners of Salena's Mexican Restaurant and part owners of Nox Craft Cocktail Lounge, and the culinary program at East High School. Students participated in every aspect of creating the restaurant that opened at the Village Gate in February 2017.
It served up workforce readiness and entrepreneurial skills alongside Caribbean soul food. The nonprofit organization took on $100,000 in debt, backed by Aaron and Kelly Metras, to open its doors. The expectation was that the restaurant would be self-funded after the opening.
Instead, business peaked in March and then declined. It was losing $2,000 to $3,000 per week, and sales numbers were decreasing. On many nights, the restaurant was serving just two to three tables. It closed in May.
Tavern 58 at Gibbs
Tavern58 at Gibbs has closed. (Photo: SARAH TADDEO/@sjtaddeo/Staff photographer)
Downtown restaurant Tavern58 at Gibbs closed in June, just before its busiest time during the Xerox Rochester International Jazz Festival, has closed.
Brothers Ryan and Nick Dwyer, along with executive chef Mike Schnupp, opened Tavern58 at the corner of University Avenue and Gibbs Street in 2008. It became a mainstay for dining downtown; among its attractions were its elevated comfort fare and inviting outdoor patio. The owners expanded to Pittsford and East Rochester, in 2013 and 2015, respectively, but found it hard to gain footing in the suburbs.
Trey Yager opened the Seven Seas Tavern in its place; it was open for just a few months before it closed.
Lindburgers
A longstanding restaurant in Penfield, Lindburgers served its last burger in October after 18 years in business.
The restaurant at the Wegmans Plaza near the junction of Routes 441 and 250 was known for combining a long list of burgers and aviation memorabilia.
It was part of a small franchise chain that once had 10 restaurants in Florida as well as the one in Penfield. It now has just four Florida locations.
The Holloway House got its name and Williamsburg theme in 1939, and the Wayne family has carried on the tradition for more than 50 years. (Photo: KATE MELTON)
Talk about a restaurant with a long run: the Holloway House operated as a restaurant with a Williamsburg theme from 1939 to 2017. The building had several additions over the years, but the old-fashioned interior, from the ruffled white curtains to the toile wallpaper to the multiple fireplaces, remained consistent over the years.
Thanksgiving was its busiest day of the year.
The husband-and-wife team of Stephen and Dawn Wayne are ready to retire and the sprawling building at 29 State St. in Bloomfield is for sale.
More restaurant closings
Some of the other restaurants that closed in 2017: AJ's Bar and Grill (Webster), Bar 145 (College Town), The Black Sheep (Corn Hill Landing), Cebo (Geneva), Cole and Parks (Victor), Doc Holliday's American Whiskey Bar and Grille (East End), Golden Ponds (Greece), The Grill on East (Brighton), Half Moon Creative Salads (Brighton), JB's Smokehouse (East Rochester), Original Mac and Cheez (Webster), Saha Med Grill (College Town), Seven Seas Tavern (downtown), Tilted Kilt (Henrietta), Tucker's Diner Bakery (Perinton), Vesta's Roman Hearth (Village Gate) and West Edge (Corn Hill Landing).