Au Bon Pain, a fast-casual baker and café chain recently closed down six locations in Washington D.C. after the company was bought by Panera Bread Company in November of last year. TAGeX Brands has been contracted to handle the restaurant closures and equipment liquidation for all six restaurants in Washington D.C., as well as locations in Chicago and New York City.
TAGeX Brands will be utilizing its online auction platform, www.RestaurantEquipment.bid to liquidate the contents of the restaurants, drawing on their nationwide collection of restaurant owners and operators to provide a recovery on assets for Au Bon Pain.
The contents of all six restaurants are now being auctioned online at www.RestaurantEquipment.bid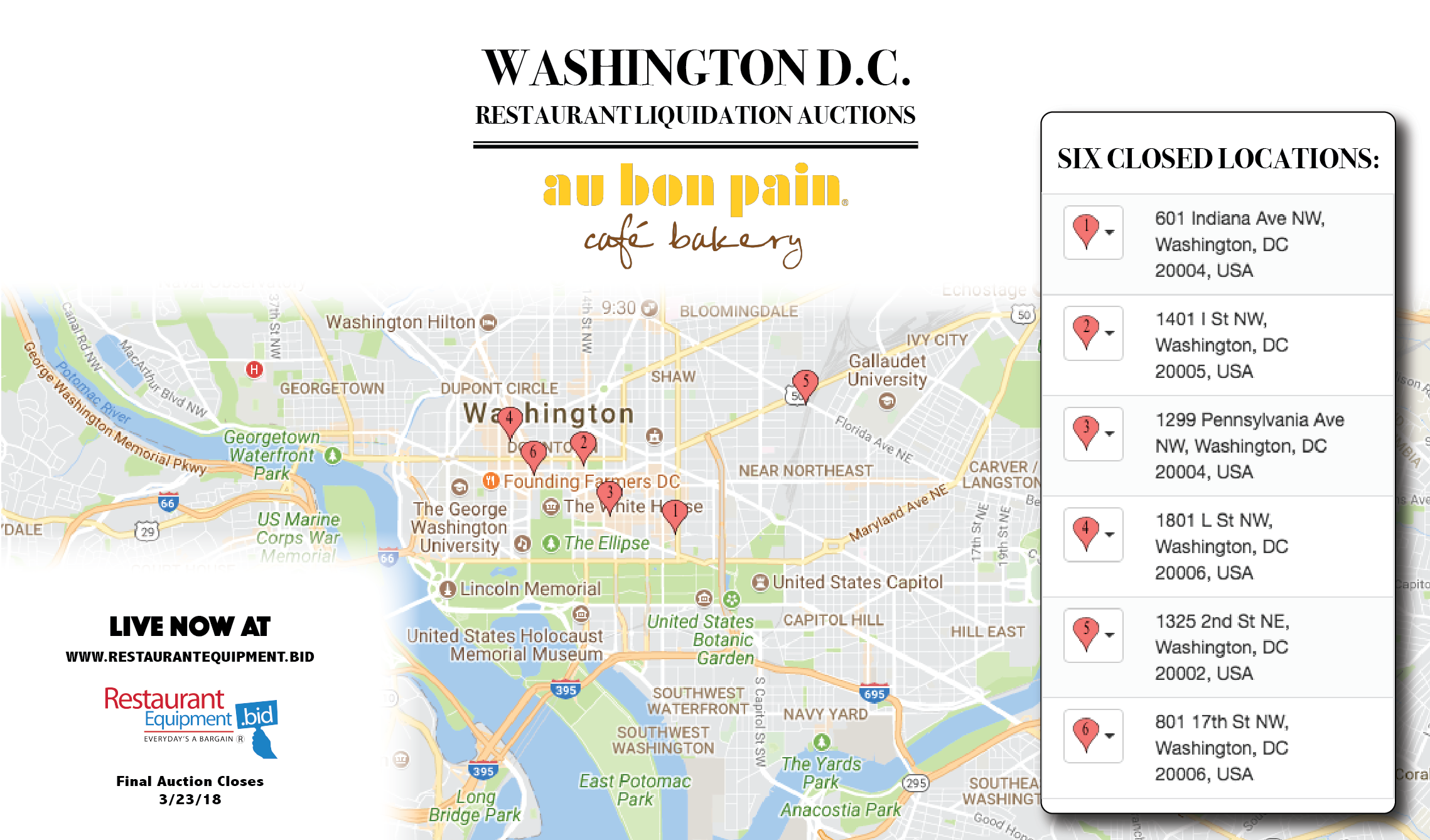 Auction items include all of the furniture, fixtures and professional-grade restaurant equipment needed for a state of the art café, including coffee makers, ovens, refrigerated display cases, smallwares and more.
Auctions from the six closed Washington D.C. locations are live now; auction closure dates range from March 15th – March 23rd. Visit www.RestaurantEquipment.bid for more details and to see the auctions.
"Au Bon Pain has seen impressive growth in recent years, and they are certainly not the only restaurant to make major cutbacks this year", said Neal Sherman, President of RestaurantEquipment.bid and a renowned expert on nationwide restaurant industry trends. "The restaurant industry has been particularly brutal since the 2008 recession. We helped over 1,000 restaurants close in 2017 alone and expect to far exceed that number this year. Many restaurant chains and clients of ours are finding that success in today's industry has meant downsizing to focus resources on a smaller number of locations."
Au Bon Pain has far from departed, however. Even after the closures, the café chain still boasts 15 locations in Washington D.C. and 253 locations nationwide.
Au Bon Pain is an internationally recognized leader in the fast-casual restaurant category. The chain's signature items – sandwiches, breads, pastries, salads, soups and coffee – are served in welcoming café environments emphasizing quick service and hospitality.