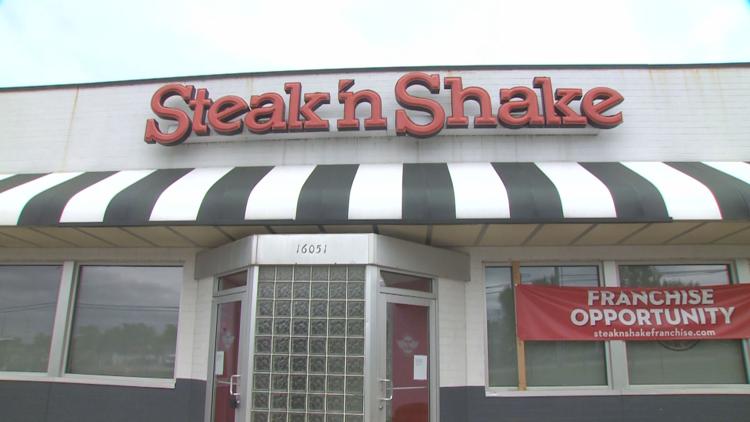 One-by-one, more Steak 'n Shake locations are closing in the St. Louis area.
One of the most recent locations to shutter is in Eureka on 1567 W. Fifth Street.
Like others, a note on the door explains the restaurant will be closed until a new franchise owner comes along.
These closures are very disappointing to loyal customers like Paul Pohlers.
"Either the four for $4 or the $3.99 special [are my favorite]. I get the triple steak burger with fries," said Pohlers.
His lunch routine was abruptly interrupted when his go-to restaurant in Ellisville closed, along with at least 20 others in the St. Louis area, nearly half of the 43 locations here.
Many of the signs posted on the closed-restaurants' doors say they are also remodeling with new equipment to improve speed and customer service.
"If you're going to try to convert these, you don't do these all at once. That's absolutely ludicrous. Why are you building brand loyalty but not maintaining it?" said Pohlers.
It's happening across the country.
According to the most recent quarterly report by Steak 'n Shake's parent company, Biglari Holdings, in just the first three months of 2019, they temporarily closed 44 of the 413 company-operated restaurants. There was no change for the 213 locations already franchised.
Now, radio ads and billboards are trying to catch the attention of potential franchise owners.
The restaurant website says they plan to franchise the 400 locations currently company operated.
A company spokesperson declined an interview but confirmed they plan to re-open all of the temporarily closed locations in the St. Louis area after they find new franchise owners, but she said they have no timeline for how long that may take.
According to its website, Steak 'n Shake says for a total investment of $10,000, selected franchise owner are granted the rights to operate one of the restaurants.
For a list of all locations in the area is below. The ones italicized are temporarily closed.
1. 4640 Chippewa St. Louis, MO 63116
2. 1253 Hampton Avenue St. Louis, MO 63139
3. 7350 Gravois St. Louis, MO 63116
4. 7606 Manchester St. Louis, MO 63143
5. 1300 Lemay Ferry Road St. Louis, MO 63125
6. 8609 Watson Road St. Louis, MO 63119
7. 11035 Bellefontaine St. Louis, MO 63138
8. 9550 Natural Bridge St. Louis, MO 63134
9. 10911 New Halls Ferry Road St. Louis, MO 63136
10. 3226 Telegraph Road St. Louis, MO 63125
11. 5828 South Lindbergh St. Louis, MO 63123
12. 7310 South Lindbergh St. Louis, MO 63125
13. 606 North Bluff Collinsville, IL 62234
14. 10459 Page Avenue St. Louis, MO 63132
15. 1525 S Kirkwood Road Sunset Hills, MO 63127
16. 4320 West Main Belleville, IL 62226
17. 3549 North Lindbergh St. Ann, MO 63074
18. 1955 Highway 67 N Florissant, MO 63033
19. 109 Regency Park O'Fallon, IL 62269
20. 6050 Howdershell Hazelwood, MO 63042
21. 12607 Dorsett Road Maryland Heights, MO 63043
22. 677 Gravios Bluffs Boulevard Fenton, MO 63026
23. 13849 Manchester Road Ballwin, MO 63011
24. 120 Arnold Crossroads Center Arnold, MO 63010
25. 1567 West Fifth Street Eureka, MO 63025
26. 16051 Manchester Ellisville, MO 63011
27. 1185 Gravois Road Fenton, MO 63026
28. 14646 Manchester Road Ballwin, MO 63011
29. 13849 Manchester Road Ballwin, MO 63011
30. 17312 Chesterfield Airport Road Chesterfield, MO 63005
31. 1525 S Kirkwood Road Sunset Hills, MO 63127
32. 13426 Olive Boulevard Chesterfield, MO 63017
33. 8609 Watson Road St. Louis, MO 63119
34. 1460 Jungerman Road St. Peters, MO 63376
35. 3226 Telegraph Road St. Louis, MO 63125
36. O'Fallon Crossing Shopping Center O'Fallon, MO 63366
37. 3101 Phoenix Center Drive Washington, MO 63090
38. 2221 First Capitol Drive St. Charles, MO 63301
39. 3909 Mexico Road St. Peters, MO 63376
40. 5885 Suemandy Drive St. Peters, MO 63376
41. 835 Robert Raymond Drive Lake St. Louis, MO 63367
42. 1134 W Pearce Boulevard Wentzville, MO 63385