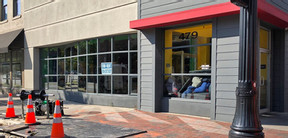 Another three restaurants are calling it quits in Columbus. Following the early September closures of Three-Legged Mare, Mona's Cafe and Abuelo's, and the recent departures of Jack's Diner and Little Eater Clintonville, Downtown and Short North will lose three more dining establishments.
Fuzzy's Taco Shop closed its doors at 479 N. High St. A 'For Rent' sign now hangs in the window of the sole Columbus location of the Texas-based taco chain. Opening in November 2017, the spot was just shy of the two-year mark. Those still looking for a Fuzzy's fix will have to travel 60 miles to Beavercreek. Fuzzy's Tacos has not returned a request for comment on the reason for the Columbus closure.
Red Velvet Cafe has vacated its space at 246 S. Fourth St. Downtown. Serving up a menu of cupcakes and Filipino paninis, the cafe operated on the popular stretch of Fourth Street for just over four and a half years, opening in March of 2015. The location was an expansion of an original Pickerington location, which has also closed. The owners also operate full-service Filipino restaurant Bonifacio in Fifth by Northwest, which remains open.
Closing out the trio of shutterings is Short North's Belgian Iron Wafel Co. It was a short-lived run for the eatery which started serving up its menu of sweet and savory "liege" wafels at 19 W. Russell St. in January 2019. The restaurant's last day was Sunday, September 29. No reason for the closure was given in a post on the joint's Facebook Page which read:
"From day 1, our goal in opening Belgian Iron was to bring out the fun, unique potential of the Leige waffle. We are proud to have been able to share that with you, but regret to say our store will close effective 5pm this Sunday, Sept 29.
Thank you to everyone for the love and dedication you've shown for us – particularly to our staff, who made us who we are. It was truly a dream to have brought so many people together and we will miss adding happiness, love and of course waffles in your day."
Article Written by Columbus Underground https://www.columbusunderground.com/trio-of-restaurant-closures-hit-downtown-short-north-sp1
Photo Courtesy of Columbus Underground